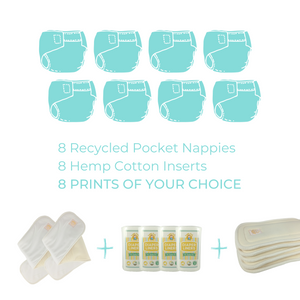 Get into Cloth Kit
If you're new to cloth nappies, or ready to top-up your stash or you're planning the switch to full-time cloth diapering, this kit is perfect for you!
Maybe you prefer to use disposables sometimes - in that case this kit is a great way to transition to cloth diapering part-time, allowing you to comfortably combine both disposables and cloth nappies. 
What's included?
x8 Recycled Pocket Nappies
x8 5-layer Hemp Cotton Inserts
x1 (5-pack) Hemp Cotton Inserts
x1 (2-Pack) Stay-Dry Multi Inserts 
x4 Bamboo Nappy Liner Rolls (100 sheets per roll)
Visit the listings for each product above for more details about the features of each item. Check out our Care Guides page and video tutorials to learn more about how easy it is to manage cloth diapering!
HOW TO PLACE YOUR ORDER:
Add the

Get into Cloth

bundle to your Cart

Browse our

Recycled Pocket Nappies

Collection and place the 8 patterns of your choice into your Cart

When you arrive at the

Checkout

page, enter the

Get into Cloth

bundle code given below and the discount will be applied! 
Enter this code: getcloth2022
WHAT WOULD YOU CHOOSE? A $140 Reusable Cloth Nappy Kit that you can use again and again, or spending anywhere between $640 - $1,150 for single-use disposable nappies?
8 CLOTH NAPPIES vs. 3,200 DISPOSABLES ?
---
We Also Recommend