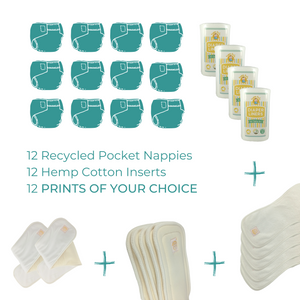 Cloth Nappy Hero Bundle
You are on your way to becoming a full-time cloth nappy Hero! Our Hero bundle will allow you to cloth diaper your baby all day-long. Depending on your baby and how often they need to be changed, this bundle will help you to make the switch to cloth nappies full-time. 
Say bye-bye to disposables and start saving more money for you and your family!
What's included?
x12 Recycled Pocket Nappies
x12 5-layer Hemp Cotton Inserts
x1 (5-pack) 5-layer Hemp Cotton Inserts
x1 (2-Pack) Stay-Dry Multi Inserts
x1 (5-Pack) Newborn/Booster Inserts
x4 Bamboo Nappy Liner Rolls (100 sheets per roll)
Visit the listings for each product above for more details about the features of each item. Check out our Care Guides page and video tutorials to learn more about how easy it is to manage cloth diapering!
HOW TO PLACE YOUR ORDER:
Add the

Cloth Nappy Hero Bundle

to your Cart

Browse our

Recycled Pocket Nappies

Collection and place the 12 patterns of your choice into your Cart.

When you arrive at the

Checkout

page, enter the

Cloth Nappy Hero Bundle

code given below and the discount will be applied! 
Enter this code: clothhero2022
WHAT WOULD YOU CHOOSE? A $200 Reusable Cloth Nappy Kit that you can use again and again, or spending anywhere between $900 - $1,700 for single-use disposable nappies?
12 CLOTH NAPPIES vs. 4,800 DISPOSABLES ?
---
We Also Recommend